Would you like to type in another language on your iPhone? Would you like to add Emoji to your email and text messages? Emoji are a collection of picture icons. This all started with smiley faces, but Emoji goes far beyond that. In either case, if you'd like to type in another language or add emoji, follow these instructions to enable additional keyboards on your iPhone.
Open Settings.
Select General.
Select Keyboard.
Select Keyboards and tap Add New Keyboard.
Select Emoji or a foreign language from the list.
Press the Home button to exit Settings.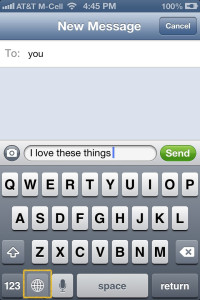 Now, let's test this by opening Notes, Messages or any other application which will let you type.
Click the globe icon to the left of the spacebar. The globe icon is outlined in yellow in the picture to the right. The globe button lets you toggle back and forth  between keyboards.
Update: After originally writing this tip, several clients asked how to use Emoji on their Macs. I looked into this and learned that Apple added support for Emoji to Mac OS X Lion (OS X version 10.7). Wikihow has a short article about how to use Emoji on a Mac. While Emoji work in most Mac applications, I also learned that Pages doesn't properly display Emoji. Most likely a future update to Pages will address this inability.
[Update October 2014: Starting in iOS 8, the Emoji keyboard is enabled by default.]