Here are instructions for subscribing to and listening to podcasts using the Overcast web site and Overcast app on your iPhone or iPad. If you missed it, my previous article provided an overview of podcasts. Here are step-by-step instructions on using Overcast, which is the podcatcher app that I use on both my iPhone and iPad.
I'll start by showing you how easy it is to listen to a podcast. On a Mac, click this link to be taken to the Overcast website. About 5-10 seconds after you click this link the podcast should start playing automatically. If not, please click the big orange play button. Also, please make sure your Mac's volume is turned up so you can hear it. I randomly picked an episode of the Car Talk podcast as my example.
If you want to listen to a different podcast, then visit the Overcast website and type in a search term in the Search Podcast field in the upper right corner. For example, you could type in Seattle Mariners and you will be presented with a list of a dozen or more podcasts about the Mariners baseball team. If you know the name of a particular podcast, such as This American Life then you can type that into the Search Podcasts field, as well.
I will also point out that some podcasts, like This American Life, have their own websites. This site lets you listen to recent and older podcasts. You can click the arrow button to listen directly to the podcast from the website. Or, you could click the download button to download the file so you can listen to it later on.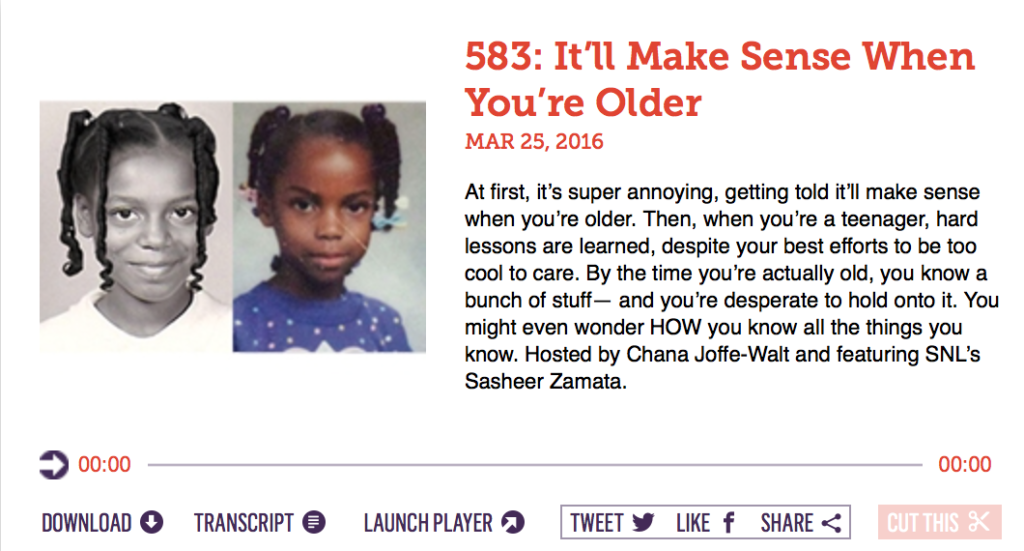 Once you find two or three podcasts that you like and know that you will want to listen to regularly. Then I suggest you subscribe to the podcast. New episodes of podcasts are released on whatever schedule is desired by the producers. Some podcasts have new episodes daily or weekly. Others are less prolific. One podcast you might like to consider is NPR's The Big Listen. This podcast helps you to learn about other podcasts. During each of their podcast episodes they end up briefly discussing a dozen, or so, other podcasts. You can read about it and subscribe to it in iTunes.
In order to subscribe to a podcast you need an application called a podcatcher. Apple's iTunes for the Mac and Podcasts for the iPhone are podcatchers, but I prefer to use Overcast. Overcast is an app that works on iPhones and iPads.
The first thing you need to do is to get Overcast from the App Store.
On your iPhone, or iPad, tap the Overcast icon to open this app
Create an account or skip it. (I recommend creating a free account.)
Tap the plus sign icon in the upper right corner to search the directory of podcasts. Again, you can type in either a subject, like Seattle Mariners, or the name of a specific podcast, such as This American Life.
Tap on a specific podcast to select it and then tap the Subscribe button.
Wait about 5 seconds to be subscribed.
The most recent episode will be downloaded if you're on a wi-fi network.
Future episodes will be downloaded automatically, when they are released, now that you are subscribed.
You will see recent episodes listed as well. Tap on one of them to read a description of that episode then tape the icon of a downward pointing arrow if you want to download that episode.
To unsubscribe from a podcast tap on the podcast's name, then tap Settings and then tap the Delete Podcast button. You will be asked if you're sure you want to do this. Tap the second Delete Podcast button that appears.
When you are getting started with podcasts, it can be easy to subscribe to too many. Don't go overboard. Be realistic about how much time you have to listen to podcasts. I recommend that you start by subscribing to just two or three podcasts.
I have a half dozen podcasts that I try to listen to. One offers daily episodes. Most have weekly episodes and one is less frequent than that. I installed Overcast on both my iPhone and iPad and used the same account on both. This way, all of my podcast subscriptions are synced between my two devices. I can start to listen to a podcast on one device and then pick up where I left off on the other device. I listen to podcasts while driving around town and while exercising.