Would you like to encrypt a PDF? Encrypting a PDF can be handy if you want to protect sensitive data contained in a PDF that you store on your Mac, or before you share the PDF via email, Dropbox or via some other means. Encrypting a PDF can be accomplished easily using Apple's Preview application which comes bundled with every Mac.
Here are instructions for encrypting a PDF:
Go to your Applications folder and open Preview by double-clicking its icon
Open your PDF by dragging the icon of the PDF file onto Preview's icon on that Dock
Click on the File menu and select Export
Insert a checkmark in the box next to Encrypt
Type in the password in both the Password and the Verify boxes
Click the Save button
Once you've encrypted a PDF, when you look at its icon in the Finder, you'll now see a padlock icon which indicates that it's encrypted.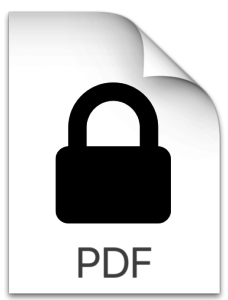 If you wish to remove the encryption, do this:
Double click the file to open it
Enter its password
Click on the File menu select Export, make sure the Encrypt box is not checked.
Click the Save button
You'll be creating a new copy of the file that is not encrypted. You can then throw away the encrypted copy.