Do you use Apple's Calendar application? If so, one of the easiest ways to add an event to your calendar is the often overlooked Quick Event feature. Here are instructions to add an event to your calendar using Quick Event.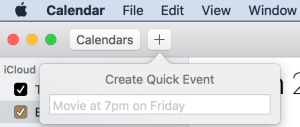 In the upper left corner of the Calendar window click the plus sign (+) button.
Type in an event name, such as Haircut,
Type in a date, such as Mar 18 or Nov 1
Type in a time or time range such as 8 am or 2:15 to 3:15 pm
Press the Return key
Your event will be added to your calendar. You can now add more details such as an alarm or note.
If you only entered a start time, like 8 AM, the event's default duration will be 1 hour.
The event will be added to your default calendar. To change your default calendar click on the Calendar menu, select Preferences, click on General and pick your preferred calendar to be your default.
If you like to use keyboard shortcuts you can press Command-N to activate the Quick Entry window. Type in the event details and press the Return key.