You should consider using Apple's easy-to-use Image Capture. Image Capture can both copy photos off of digital cameras and control a scanner to scan paper documents. Today's tech tip focuses only on scanning. Image Capture can control hundreds of scanners made by Brother, Canon, Epson, HP and other manufacturers. Image Capture is one of many free applications that comes bundled with every Mac computer. I typically prefer to use Image Capture instead of the scanning applications that come bundled with scanners. In other words, if you already have a scanner connected to your Mac, simply open Image Capture and see if it's able to communicate with your scanner without doing any additional setup. [Note: Check out my Tech Tip about how to scan using your iPhone or iPad if you don't have a scanner connected to your Mac.]
Here are some quick instructions to get you started with using Image Capture on your Mac:
Turn on or wake up your scanner, but don't press any other buttons on it.
On your Mac, click on the Finder icon on your Dock.
Click on the Go menu and select Applications.
Locate and then double click on Image Capture to open it.
On the left-hand side you'll see two sections named Devices and Shared. Scanners connected by USB cable will appear in the Devices section and networked or wireless scanners will appear in the Shared section. (If your scanner isn't listed in either section then it's likely not compatible with Image Capture.)
Click on your scanner in either the Devices or Shared section to select it.
You might need to wait while your scanner warms up.
Look at the picture below to see if your Image Capture looks similar. If not, click the Show Details button to expand the window so it looks like the image below.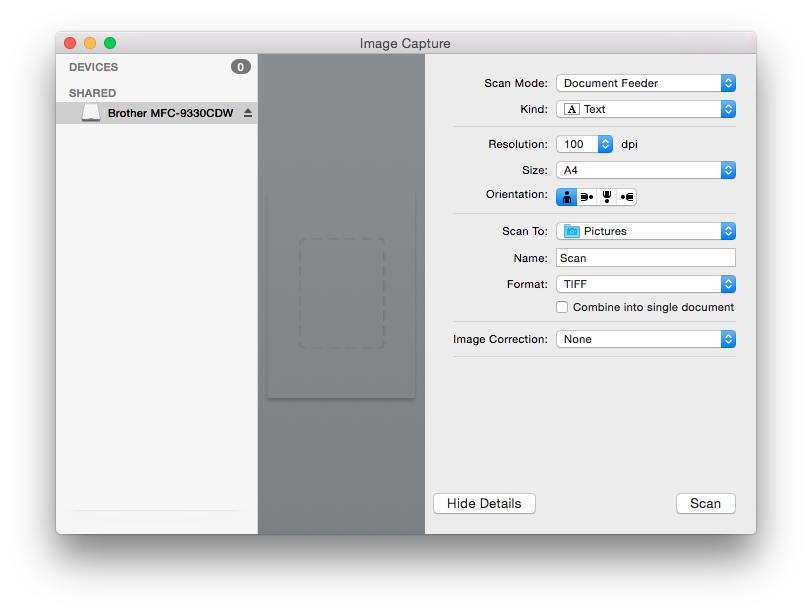 The right hand side of the Image Capture window lists all of its options for scanning. These are my recommendations if you're trying to scan one or more pages of text to save them on your Mac or send the file to others.
The exact options that you see listed may not be identical to what I mention below or what you see in the picture above. This is because different models of scanners offer different features.
Set Scan Mode to Document Feeder (Use Flatbed if you have a bound book that can't be sent through the document feeder tray)
Set Kind to Color.
Set Resolution to 300 dots per inch (dpi).
Set Size to Letter.
Leave orientation untouched. You can always rotate the document once it is scanned.
Set Scan To to Desktop, so you can easily find the scan afterwards.
Type in an appropriate name for your scan.
Set Format to PDF since it is the only file type (aka format) that can be multiple pages.
Typically, skip over Image Correction.
Click the Scan button.
Wait a minute or two for the pages of your document to be scanned and saved.
Double-click the file that was placed on your Desktop and admire the results!