Safari version 5 introduced a new feature named Top Sites which automatically displays your most frequently visited web sites. Top Sites displays thumbnail depictions of each web site in a grid of several rows and columns. This tech tip tells you how you can customize Top Sites.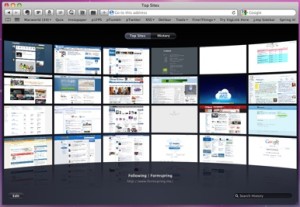 By default, Safari 5 displays Top Sites when you open a new window. You can manually display Top Sites by clicking the grid icon located near the upper left-corner of the Safari window. This grid icon is highlighted by the red circle in the picture below.

When the Top Sites grid is being displayed, you can click the Edit button in the lower left corner. Then, in the lower right corner you'll see that you can switch between Small, Medium and Large. These choices will cause Top Sites to display 24, 12 or 6 thumbnails respectively.
You can also drag the thumbnails around in the grid so they appear in the order that you prefer. Additionally, you can click the Push Pin icon or the X icon located in the upper left corner of a thumbnail to permanently add or remove a web site from your top sites. When the Push Pin icon turns blue, you've permanently added the web site.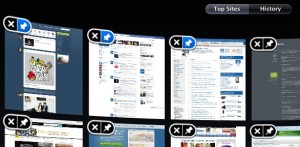 When viewing Top Sites, look for a star icon to appear in the upper right corner of a thumbnail. The star indicates that the web site has added content since you last visited the site.
[Update October 2014: In Safari 7, there is no longer an edit button in the bottom right of the Top Sites window. To control the number of Top Sites shown, go to the Safari menu and choose Preferences. Then choose General. In the bottom half of the window, there is a drop down menu labeled "Top Sites." You can choose 6, 12, or 24 from this menu. Also, to get the pushpin or X on a Top Site now, simply hover your mouse over the desired Top Site and those options will appear in the top left corner of that site.]