Do you often want to get driving directions from Google Maps for somebody's address which is stored in Address Book? If so, then you should use Brian Toth's Google Maps Address Book Plugin. I've used this great little utility for several years and rely on it regularly to get driving directions either from my office to a client's office or from one of my client's office to another client's office. You can try the plugin for free. If you like it then please send a donation to Brian Toth, the developer.
Installation is easy. Click the download button on the developer's web site. You'll start to download the compressed zip file. Your Mac you automatically unzip this file, if not you can double-click it to get your Mac to unzip this file. You'll then see the Google Maps Plugin installer application. Double-click it to install it.
It's easy to use as well.
Open Address Book and hover your cursor over the "work" or "home" address label.
Click on the address label and select Google Directions.
To change the starting address click on the pop-up list near the top of the window to select your starting address. Then click the "Map" button.
Your default web browser will open and you'll be shown Google Directions for the selected addresses.
Here are images to illustrate these instructions.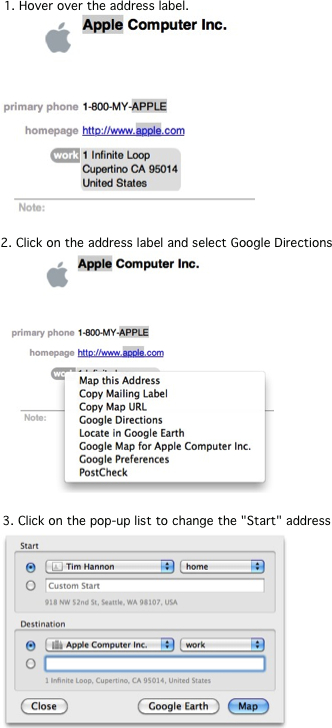 Extra Tip
I also use Brian Toth's PostCheck plugin for Apple's Address Book. PostCheck will fill-in an address' missing zip code or verify that you have the correct zip code. You'll notice that once you've downloaded and installed it that you can select it from the pop-up menu. Just look for PostCheck.