Do you use an iPad but wish you could easily attach a keyboard to let your iPad function more like a laptop for taking notes or composing emails? If so, you should consider the Brydge bluetooth keyboard for iPad. This Tech Tip comes from another Apple consulting business, Convenient Integration. Look for future articles from them on the topics of technology and design.
Most of us spend hours interacting with our electronics every day. I'm becoming more aware of my hardware choices and habits. Thus, I'm focusing on improving ergonomics during these hours.
For years I've been using Apple's largest iPad, the 12.9 inch iPad Pro. I used Apple's integrated Smart Keyboard with both my first and second generation iPad Pros. The Smart Keyboard is an incredibly compact and portable device, but I found that Apple's Smart Keyboard is not very durable. I had to replace mine twice. Apple's Keyboard offers two fixed angle positions. One for typing and the other for viewing. These limited options didn't always work well for me. Also, while the Apple keyboard is incredibly lightweight, the magnetic connection is not entirely sturdy. I have had to be extremely careful not to let it tip over or come apart while using it.
I recently switched to a Brydge iPad Keyboard. It is slightly less expensive than Apple's Smart Keyboard. The Brydge is constructed of aluminum and doesn't rely on magnetic or electrical connections to the iPad. Instead, it attaches with a sturdy friction mount and connects to the iPad via Bluetooth. The Brydge keyboard is powered by its own internal rechargeable battery. It can run for up to a year on a single charge. This keyboard has adjustable backlighting, deep travel keys with a great tactile feel and is a pleasure to use. Even better, it has dedicated hardware buttons for Siri voice dictation, iPad brightness and volume. These are marvelously useful additions. The Brydge keyboard works with many iPads including some iPad mini and iPad Air models. Since I haven't been using the Brydge very long, I can't yet comment on its durability, but Brydge, the company, which started as a Kickstarter project has been around since 2012.
The Brydge's friction mount, which holds the iPad, is a hinge as well. It lets the iPad lay flat against the keyboard, just like a laptop. Raising or lowering the iPad from the keyboard triggers the iPad to automatically power on or off. Hinge friction is perfect and allows the iPad to open to a full 180° and park at any angle in between. The keyboard is about the same size, weight and feel as the iPad itself and while this does increase the size and weight of the combination, it's well balanced, solid, and easy to hold with one hand. These features, in combination with the multitasking features Apple has built into iOS allow one to be more efficient and productive using an iPad. The end effect is that I have a great looking, ultra compact, instant on, WiFi+cellular laptop/tabletop computer with all day battery and fantastic keyboard.
Easily slide your iPad into a Brydge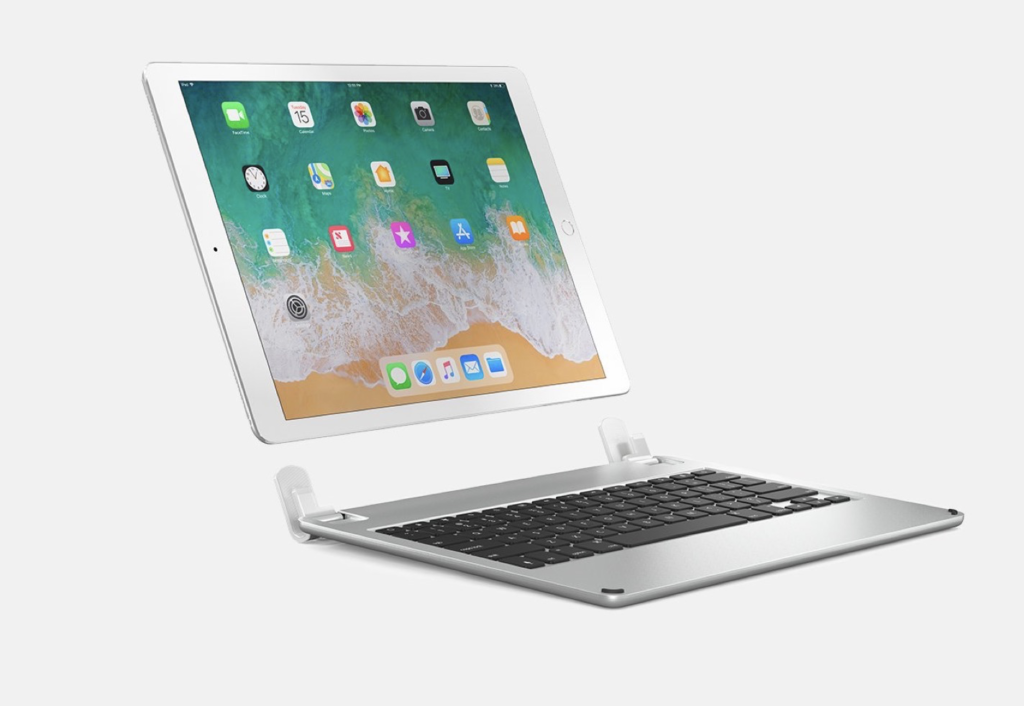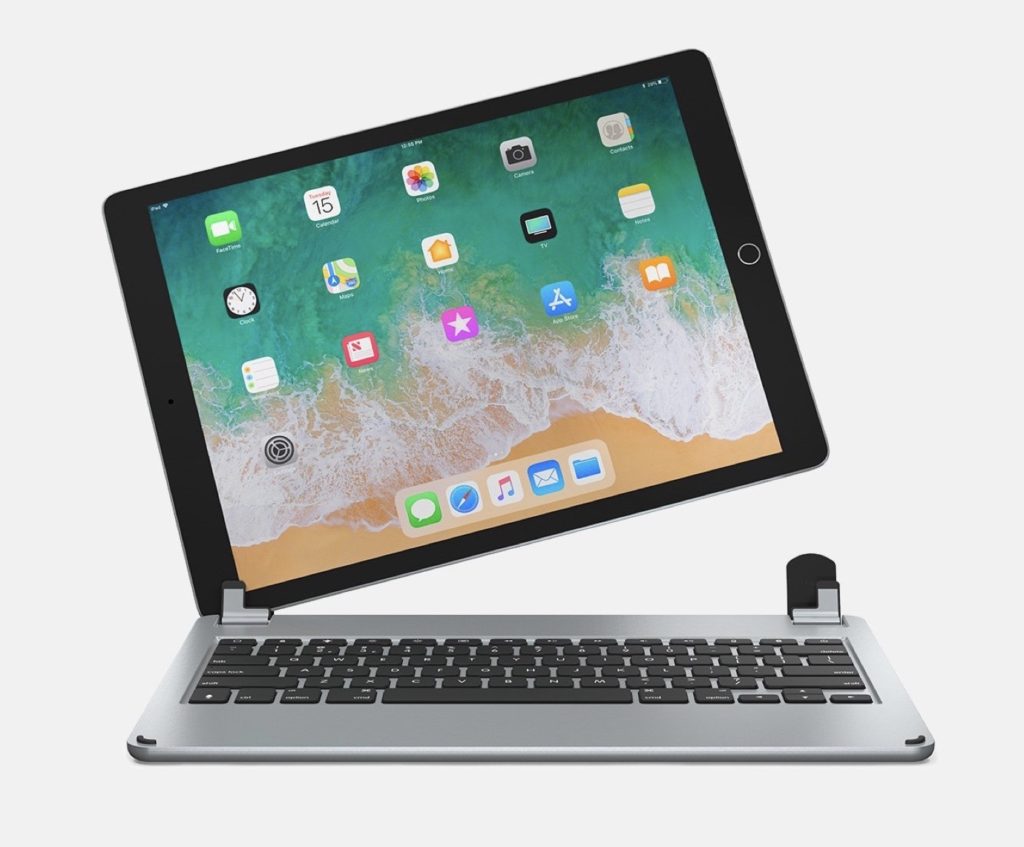 You can adjust the iPad to any angle from 0 to 180 degrees